Chris Gunn – Texas Award Winning Tattoo Artist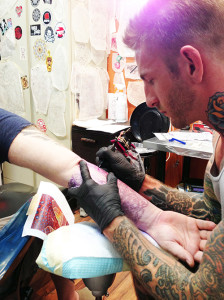 Chris Gunn has been tattooing for 15+ years in Austin, Texas. His shop (Southside Tattoo) is known for it's clean, friendly & "attitude-free" atmosphere and is located on one of the most popular corners in Austin. (Right next to the legendary Continental Club and across the from the San Jose Hotel & Austin Motel.)
Chris specializes in bold, bright, custom tattooing and will draw you a custom piece utilizing your ideas, photos, etc. while taking esthetics and placement into consideration.
Chris' appointment schedule is very busy. Please stop by for a consultation and to make an appt. Tues-Sat. Appointments can not be made by email for new clients.
Click here to check out Southside Tattoo.